today is sunday. fun. i hate this day. i always want to be productive and i never am. so today is my new attempt again to do something worthwhile today. yesterday i was a lazy ass. i got up and volunteered at the salvation army donating food to homeless people. it was fun, but if i were in charge, it would've been a LOT smoother and more organized. i came home and watched tv and fell asleep and watched tv and fell asleep and watched some more tv and then finally decided to get my ass off the bed and left the house at like 6pm. i went shopping and got some pad thai (mmmmm). came home to drink some cuvee m (blue) and watched husbands and wives. good flick, but i do like me some woody allen.
i won't bore you with my plans for today. not to avoid boring you but because i have no idea what they are. i need to figure that out. it includes going in to work and getting some stuff done. bleh. whatever, i guess. not like i have anything to do here.
can't think of anything else to say, so i'll post
this map
for you. i think i've seen almost all the movies on here and am annoyed/happy that they TECHNICALLY got fargo right (it takes place almost entirely in minnesota), BUT its CALLED FARGO, so shouldn't we attribute it to north dakota?? i actually dont care THAT much about it, i'm just annoyed they attributed jesus camp to us. i mean SERIOUSLY?? ugh. thats such a disappointment. its better to attribute whichever leprechaun film took place in north dakota.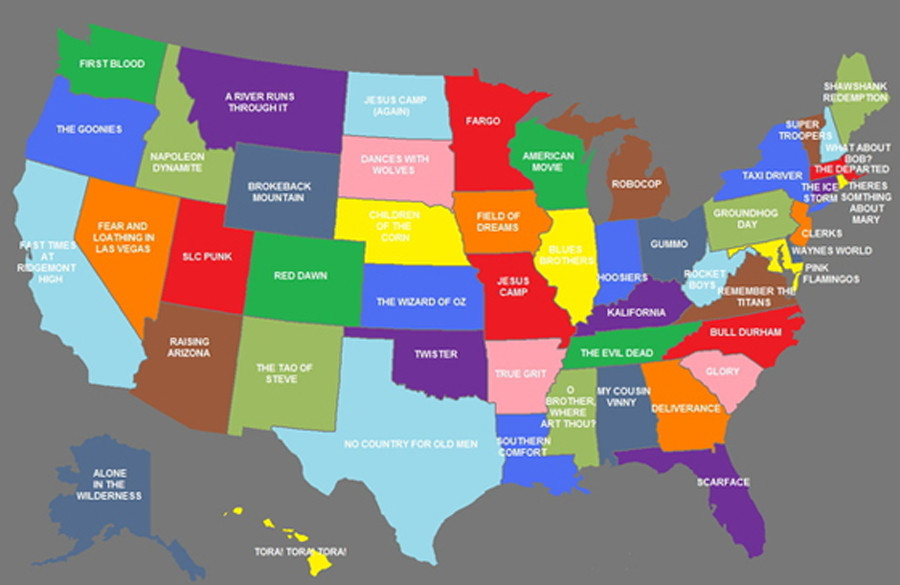 what do you think??

[song by metallica. just cause.]